The Next Step in Scent Marketing
Posted by Steve Kleber on Aug 02, 2010
Many say that the sense of smell is the most powerful sense at recalling memories and emotions.  A few months ago, we wrote a blog discussing smell as a current marketing tool and used in new ways to market home products.
Well, it looks like Scent Marketing is being utilized on a much larger scale in North Carolina, where drivers can actually get a whiff of a charcoal and black pepper-scented billboard advertising beef for a local Food Lion grocery store.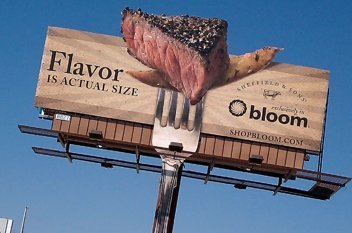 Read the article here:
http://blogs.laweekly.com/squidink/food-trends/billboard-north-carolina-aroma/
This entry was posted by Steve Kleber on Monday, August 2nd, 2010 at 3:37 pm and is filed under
Advertising
,
Brand Management
. You can follow any responses to this entry through the
RSS 2.0
feed. Both comments and pings are currently closed.